TRAIN ELITE, BE ELITE
Welcome to First Responder Fitness. Our aim is to become the leading fitness resource for all Tactical Athletes serving from every branch of Police, Military, Rescue, EMS, and Fire Service. We are active duty First Responders who believe in going above and beyond the standard.
Our goal is to help you become the best physical version of yourself to better serve the community that you swore to protect.
First Responder Fitness is a wholly owned subsidiary of Train Your Probie Inc.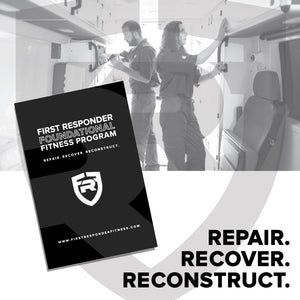 First Responder Foundational Fitness
First Responders must be in peak physical condition in order to give our best to the communities we swore to protect. Unfortunately, there are times when we may sustain an injury that takes us out of the fight. From tweaking your back while lifting a patient, to some of the more severe injuries that take months to fully recover, these problems happen to the best of us. We created the First Responder Foundational Fitness Program with this in mind to help our fellow First Responders repair, recover, and reconstruct themselves from previous injuries with a fitness program geared for better mobility, functionality, and building a strong foundation. It's time you get back in the driver's seat and take control of your health and wellness. Check out our First Responder Foundational Fitness Program today.
Testimonials
Love the Foundational fitness program. I bought the program expecting it to mainly focus on the fitness side of my recovery but was surprised with all the great information that was offered in the "recover" section of the book. I use the Habit Temple checklist daily.

Josh P
I have always suffered from recurring mobility issues in my shoulder. The First Responder Foundational Program has helped me put my recovery sessions as a priority while giving me some of the tools to help relieve my tightness and pain.

Melissa
Subscribe to our Health & Wellness newsletter
Free Workouts, Training Tips, Recipes, Sales, And More. Directly to your inbox.