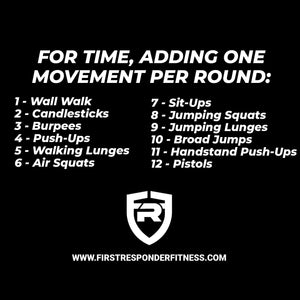 WOD #2
FOR TIME, ADDING ONE MOVEMENT PER ROUND:
Wall Walk
Candlesticks
Burpees
Push-Ups
Walking Lunges
Air Squats
Sit-Ups
Jumping Squats
Jumping Lunges
Broad Jumps
Handstand Push-Ups
Pistols
In round 1 perform 1 wall walk. In round 2 perform 2 candlesticks and then one wall walk. In round 3 perform 3 burpees, then 2 candlesticks, then 1 wall walk. Continue adding a new exercise each round.

Score is the time on the clock when the workout is completed.

Movement Standard
Candlestick: From a standing position, sit on the ground with heels close to the hips. Keep your feet together and extend them towards the ceiling. Then, stand up out of the squat to finish the repetition.
---